How To Create An Effective Logo
Firstly, to understand how to create an effective logo you have to start off with 'Logo Design 101'. So! A good logo is distinctive, appropriate, practical, graphic and simple in form, and it conveys the owner's intended message. A concept or "meaning" is usually behind an effective logo, and it communicates the intended message. A logo should be able to be printed at any size and, in most cases, be effective without color. A great logo essentially boils down to two things: great concept and great execution.
Paul Rand, one of the world's greatest designers states that "a logo is a flag, a signature, an escutcheon, a street sign. A logo does not sell (directly), it identifies. A logo is rarely a description of a business. A logo derives meaning from the quality of the thing it symbolizes, not the other way around. A logo is less important than the product it signifies; what it represents is more important than what it looks like. The subject matter of a logo can be almost anything."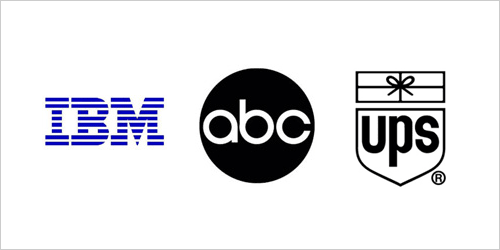 Look at these logos, can you identify the companies associated with them? Yes of course. Can you explain what these companies do based on them? Not everyone can, but that's okay as the logo isn't supposed to help you explain such information, only to identify. And to prove what Paul Rand was explaining in the quote, the subject of the logos can be anything, lines, shapes, graphics, it isn't too important, once the name is visible.
We've compiled a list of top tips from the professionals which you could take on-board when considering on making an effective logo for your own business in this news update, take a look:
The Logo Design Process
"Some wonder what's so difficult about creating a good logo. They're small, they look easy to do, so no problem, right? When you only see the result of a designer's efforts, the logo creation can look like it was a simple task. But it's not. A logo takes thought and creativity, and many elements combine to make a good one." – Harrison Mcleod.
When creating a logo, follow a process that ensures the final design meets the needs of the clients. Below, we have listed the typical process that professional logo designers follow. With practice, you will no doubt develop your own.
Design brief: Conduct a questionnaire or interview with the client to get the design brief.
Research: Conduct research on the industry itself, its history and competitors. Problem-solve first, design later.
Reference: Conduct research on logo designs that have been successful and on current styles and trends that may relate to the design brief. Follow trends not for their own sake but rather to be aware of them: longevity in logo design is key.
Sketching and conceptualizing: Develop the logo design concept(s) around the brief and your research. This is the single most important part of the design process. Get creative and be inspired. As Dainis Graveris has written once, "sketching isn't time-consuming and is a really good way to put ideas in your head right on paper. After that, it's always easier to actually design it on the computer. Sketching helps to evolve your imagination: once you understand it, you will always start from just white paper.
Reflection: Take breaks throughout the design process. This helps your ideas mature, renews your enthusiasm and allows you to solicit feedback. It also gives you a fresh perspective on your work.
Revisions and positioning: Whether you position yourself as a contractor (i.e. getting instructions from the client) or build a long-lasting relationship (i.e. guiding the client to the best solution), revise and improve the logo as required.
Presentation: Present only your best logo designs to your client. PDF format usually works best. You may also wish to show the logo in context, which will help the client more clearly visualize the brand identity. Preparing a high-quality presentation is the single most effective way to get your clients to approve your designs. "Canned presentations have the ring of emptiness. The meaningful presentation is custom designed—for a particular purpose, for a particular person. How to present a new idea is, perhaps, one of the designer's most difficult tasks. This how is not only a design problem, it also pleads for something novel.
Everything a designer does involves a presentation of some kind—not only how to explain (present) a particular design to an interested listener (client, reader, spectator), but how the design may explain itself in the marketplace… A presentation is the musical accompaniment of design. A presentation that lacks an idea cannot hide behind glamorous photos, pizazz, or ballyhoo. If it is full of gibberish, it may fall on deaf ears; if too laid back, it may land a prospect in the arms of Morpheus." (Paul Rand).
Delivery and support.
Deliver the appropriate files to the client and give all support that is needed. Remember to under-promise and over-deliver. After you've finished, have a beer, eat some chocolate and then start your next project.
5 Principles Of Effective Logo Design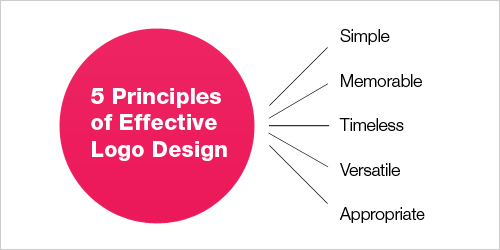 As mentioned, a good logo is distinctive, appropriate, practical, graphic and simple in form, and it conveys the owner's intended message. You should follow the five principles below to ensure that your design meets all of these criteria: Simple, Memorable, Timeless, Versatile and Appropriate.
Simple: simplicity makes a logo design easily recognizable, versatile and memorable. Good logos feature something unexpected or unique, without being "overdrawn."
Memorable: following closely on this principle of simplicity is that of memorability. An effective logo design should be memorable, which is achieved by keeping it simple yet appropriate.

Timeless: An effective logo should be timeless. Will yours stand the test of time? Will it still be effective in 10, 20 or 50 years?
An effective logo works across a variety of media and applications. For this reason, logos should be designed in vector format, to ensure that they scale to any size.
Ask yourself, is your logo still effective if it is printed: In one color? In reverse color? The size of a postage stamp? As large as a billboard?
One way to create a versatile logo is to begin designing in black and white. This allows you to focus on the concept and shape, rather than color, which is subjective in nature. Also keep in mind printing costs: the more colors you use, the more expensive it will be for the business over the long term.
How you "position" the logo should be appropriate for its intended audience. For example, a child-like font and color scheme would be appropriate for a logo for a children's toy store, not so much for a law firm.
How Much Does A Logo Cost?
In my experience, this is the most frequently asked question. It cannot be easily answered because every company has different needs. The best approach is to draw up a customized quote for each client.
You have to take a number of factors into consideration when designing a logo, such as how many logo concepts need to be presented, how many revisions will be needed, how much research is required, how big the business is and so on.
How To Choose a Designer
Keep an eye out for certain things when choosing a logo designer:
Experience and proven success: Do they have a proven track record? How experienced are they?
Testimonials: Do they have positive testimonials from previous clients? Ensure you check the validity of testimonials. A quick email to the company should suffice.
Their design process: Do they follow a logo design process?
Awards won and published work: Have they won any awards for their work? Is their work published in any books or magazines? How recognized are they in the industry?
Strength of portfolio: How strong is their portfolio? Have they got 100+ mediocre logo designs or 10 to 30 excellent ones? What is the ratio of real to fake logo designs?
Timeframe: How long would they take to complete your logo? A typical logo design process takes 4 to 15 days, but many can go for months on end. Think of how long your logo design will be used for: would you want it to be designed (much less researched) in less than 24 hours?
Price: The cost of the service usually reflects what you will receive. In most cases, you get what you pay for… but price is not the only indication.
Affiliations: Are they affiliated with any design associations or publications? This is a good indication of how dedicated they are to their craft, though it is not essential.
Professionalism and communication: How do they present themselves? Do they respond to your emails quickly? How do they communicate? Do they work with a contract (to protect both them and you)?
Questions asked: How many questions does the designer ask about your business? Questions should revolve around your company's history, target market, goals, etc.